If you are into core marketing or working for your business marketing, you just realize the need for having the landing page building software. Landing pages can be very good compared to tools that, when developed properly, can work to improve the leads from the internet.
Since the landing pages can be customized with images, funnels, and forms, it can create a game-changing scenario. It landed in the market around 2011, and since then, it has become a common technique chosen by marketers.
Whether it is about promoting the offers like checklists, eBooks, special discounts, whitepapers, or just encouraging the visitors to subscribe, this can become a great way to draw their attention. However, building a landing page can be a struggle for many. Fortunately, the landing page builders have shown up with impressive features, and easy use has made it now a widely used technique.
No wonder you will now be eager to know more about these landing page builders. We will move ahead to know more about them, but we will look at some basic things before that.
What Is A Landing Page?
The landing page can be said as the web page where customers can land on. However, in terms of marketing language, this is a standalone page. This is a lot different from the other pages on the website as it only serves a single purpose.
You can probably mention the landing page as something that is focused and created exclusively for customers. The landing page will help you make trade special offers, provide information about an upcoming deal, get information from clients, and a lot more.
A good landing page is known to do a convincing job for customers in whatever they have to offer. However, it all depends on the way you develop. However, you don't have to stress much about it, as the landing page builders have made sure to ease the process.
What Is A Landing Page Builder?
Since you have designed a great website, it does not mean that you have done enough to draw customers' attention and convert them into buyers. Sometimes, you have to go the extra mile. When you are into product selling, you must know that it requires a story, imager, and other supporting information.
This is where the need for having a good landing page builder comes in. These are perhaps some of the simplest ways to create a stunning page. Some of the exciting features that enable easy use of the elements enable users to create a page just the way they want. Besides, the templates that they have to make them a practical choice for creating an impressive landing page.
Having a landing page builder can make the entire work easy, but before moving ahead to finding the top few, let us have a look at what makes landing pages a great choice.
Why Do You Need A Landing Page?
Landing pages are one of the most validating ways marketers use to improve SEO, drive traffic, and develop a brand. This is also considered as a part of the PPC. It has been seen that almost 68% of businesses make use of landing pages for lead generation, which can lead them to future conversions.
The landing page leads to improving the number of customers to the specific service or products that you are offering. This is because it encourages the customers to take some action which can create conversions and develop a solid customer base.
Previously it was a challenge for the business to design landing pages, but thankfully with the landing page creation tool, it has now become seamless and convenient.
Who Should Use The Landing Page?
A landing page is, of course, one of the best ways to improve the number of sales. However, not everyone needs it. In case you are trying to create a brand and sales count, this can be a valuable technique. Nevertheless, let us still find who requires a landing page?
This can be beneficial mostly for:
Marketers and entrepreneurs who are running the marketing campaigns
Entrepreneurs who are into selling high-end products
Product managers to get sales for products
To be simple, everyone who has something to offer can use the landing page to attract customers to their website and improve conversions.
Now that you have learned in detail about the landing page let us now have a look at the top landing page builders that you can choose to create your own landing page.
Top 7 tools that allow you to build a landing page
Creating a landing page is much of a task if you don't have any prior knowledge. However, no more will you need to hire someone to create a landing page because of the software available.
So here, we will have a look at the best tools for a landing page that can create a fantastic landing page just the way you want.
Unbounce
Unbounce is the top landing page creation tool that makes it extremely easy to build pages, test the custom landing pages, sticky bars, and website popups. It has the efficiency to create landing pages that can improve the conversion rate to a huge extent and fast launching of campaigns.
This was probably the first software for building landing pages that made it easy for people to create fantastic landing pages. Irrespective of the projects and the niche, you can easily use it as a tool to create landing pages and optimize your marketing strategies.
Unbounce Benefits
Over 100 unique templates
Easy integration with WordPress
Popups can be included with the popular CRM, analytical tools, and email.
Include dynamic keywords for the SEM campaigns
Can add the popups and sticky headers on pages
AMP mobile pages
Clone the entire page and then edit it
Unbounce Pros and Cons
Unbounce Pros (Advantages):
Powerful and flexible editor
Include great template
Tocked with features
Unmatched A/B testing options
Unbounce Cons (Disadvantages):
Have slight learning curves
Not cheap
Beginners might find it hard
Why choose Unbounce as your landing page builder
Unbounce can be a great choice for marketers to reach their goals with the range of features included in it. Although endless reasons can be written, some really attention-grabbing are:
You can customize the landing page using a range of elements.
Both beginner and advanced level customization is available
Dynamic text replacements enable you to use more keywords on a landing page
Overlay CTA for more conversion
Most importantly, you get free trials
Leadpages
Leadpages is a builder that enables you to create campaigns for capturing leads, integrate them into the digital marketing tools, and convert more customers. From eCommerce to Facebook, you can integrate the software anywhere.
Besides, this software lets you fine-tune the campaigns to improve the impact. The software has been integrated with the tools that you need. You can stay focused on building a stunning page with the features included in it. Every item comes with options that you can use while editing and create something that will work. This can be the ultimate choice for businesses.
Leadpages Benefits
It consists of more than 150 different types of templates
No limit of mobile-responsive pages
It is compatible with 40+ tools
A/B testing
You can integrate it easily with WordPress
Easy capture of leads
Leadpages Pros and Cons
Leadpages Pros (Advantages):
Easy drag and drop facility
Popup boxes to improve conversion rates
Inbuilt on-page payments
Mobile-friendly landing pages
Facebook ad builder integrated
Leadpages Cons (Disadvantages):
Some features like email trigger and A/B testing are only available in higher plans
You will not be able to publish pages on your URL
The lowest pricing tier has little customer support
Why choose Leadpages as your landing page builder
There are many reasons to choose Leadpages over others, and one of the prime reasons is the unparalleled features included in it.
Inbuilt payment system for running stores
The themes are optimized for both tablets and mobiles, making it completely workable
SMS marketing abilities for improved leads
Instapage
Instapage is a fantastic landing page builder that allows creating breathtaking mobile responsive landing pages. This is one of the best tools for landing pages that ensures ease of creating a landing page using it ensures no need for a developer. With tons of powerful features integrated into the builder, you can be able to make the best choices for your marketing requirements.
No wonder this tool is known for its unmatched power, but keeping it impressively simple enables you to work on it. With the easy drag and drop functionality included in the landing page builders can create perfect pages. Even when it is a bit on the expensive side, the tool ensures compensation for every penny with its features.
Instapage Benefits
You can get over 200 box templates for use
Facebook advertising, Google Analytics, and much more integration
Improved lead counts with the use of forms
In the higher plans, you get A/B testing and heatmaps
You can easily add custom codes
AMP
Instapage Pros and Cons
Instapage Pros (Advantages):
Drag and drop facility to ensure ease of use
Designs are absolutely pixel perfect
Can integrate the pages seamlessly with any other platforms
Create AMP landing pages
Instapage Cons (Disadvantages):
Plans can be quite expensive
Sone integrations are available only in higher and expensive plans
Why choose Instapage as your landing page builder
Instapage landing page creation tool is created with the features and functionalities that enable marketers to create landing pages that can ensure improved conversions.
It is very easy to use
You can move contents easily
Within a minute, you can make can pages
Readable analytics
GetResponse
GetResponse is an amazing landing page builder that lets you create mobile responsive and highly converting landing pages. Besides, it is also software that comes with webinar and marketing abilities.
This software model has its own sort of advantages and disadvantages. The positive side is that you can acquire different tools even when you are just paying for one. Besides, if you have been searching for a landing page builder that can be launched without any issues and with some outstanding capability, you can definitely choose GetResponse.
GetResponse Benefits
It comes with inbuilt analytics that proves highly beneficial for marketers
You can improve lead count with the lead forms
Easy integration of lead forms with this builder into the email platform
More than 1000 templates and photos available
A/B testing
You can do a whole lot of things like create webinars, email marketing, and of course, landing page
Easy integration of PayPal button
GetResponse Pros and Cons
GetResponse Pros (Advantages):
Access to a huge number of Shutterstock images
Integrated with a complete marketing tool
Easy integration of countdown timers for more conversions
GetResponse Cons (Disadvantages):
Enterprise plan can be expensive
Pricing based on contact
Why choose GetResponse as your landing page builder
GetResponse is more than just a landing page creation tool. You will be able to do endless things for marketing with this builder.
Creating landing pages is easy with the drag and drop functionality
Using the analytical feature can be a good choice to keep an eye on the performance
ClickFunnels
Clickfunnels has been built by integrating features that can easily meet the needs of people. It contains some of the features that most builders simply don't think of including. The unique solution included in the builder allows you to set it up instantly.
Entrepreneurs who are into information, coaching, and lead generation can make great use of this amazing tool. People who are into long-term business can use this to enjoy more conversions. This enables minimizing work as ClickFunnels does everything pretty easily.
ClickFunnels Benefits
You can easily set up the funnels in the least time
It is flexible in nature with hassle-free editing
Integrating major emails can be done easily
Unlimited numbers of premade templates
A/B testing
SSL Certified
ClickFunnels Pros and Cons
ClickFunnels Pros (Advantages):
Free training is offered
Keep adding new and improved features
Free trails offered
Leverage multiple domains
Different kinds of pre-built funnels
ClickFunnels Cons (Disadvantages):
Customization ability is limited
It is pricier compared to the features
Why choose ClickFunnels as your landing page builder
ClickFunnels is undoubtedly a great choice for the people, and it is worth the penny. It has multiple features that can speed up the process of building landing pages.
Regardless of the website, anyone can use ClickFunnels to create landing pages
A great choice for marketers, entrepreneurs, designers, and anyone willing to expand their business
GrooveFunnels
GrooveFunnels is a great choice as it has been packed with many tools together. Powerful and easy-to-use tools in this builder can arguably save a huge amount of time and headache. The all-rounder tool enables creating landing pages, sales funnel, and websites for selling services and products online.
This drag and drop landing page builder enables you to create anything with ease. The templates are professionally designed to make it look amazing on desktops and laptops. With the pre-built templates, you can create any professional landing pages in an unimaginable way. It allows users with any level of skill to create converting landing pages.
GrooveFunnels Benefits:
It consists of different elements like images, buttons, and content, along with offering assistance
Creates effective sales funnels easily
GrooveSell, which is used by GrooveFunnels, is used for assistance for selling
GrooveFunnels Pros and Cons
GrooveFunnels Pros (Advantages):
This is a tool that offers all-in-one functionalities
Create mobile-friendly and SEO friendly landing pages
It offers refund to clients
The fastest landing page creator
Active community for help
GrooveFunnels Cons (Disadvantages):
Bigs are found in the Beta version
Lots of polishing is required
Why choose GrooveFunnels as your landing page builder:
If you are looking forward to finding a landing page builder with more functionalities and tools, GrooveFunnels is the best choice.
You get a clean user interface along with a quick page editor
An all-in-one marketing tools to save your time and money
Payment gateways like PayCheck, Stripe, GroovePay, and PayPal is integrated
HubSpot
HubSpot is one of the best tools for a landing page that has a range of tools for salespeople and digital marketers. Being a landing page fan, you, of course, have made the right choice. The company describes itself as an effective platform for your marketing campaigns.
This consists of the enterprise marketing solution, which offers just the right kind of solution for making an impressive landing page. Whether you are working in a marketing agency and willing to impress your manager or maybe looking to do something great for your company, this is an amazing platform that can not only create landing pages but also do email marketing, CRM, and way more.
HubSpot Benefits
It has the ability to capture the leads keeping the format easy
An amazing content and blog creation tools
A/B testing
SEO and content strategy
From email marketing to CRM – they have everything that you will require for succeeding
HubSpot Pros and Cons
HubSpot Pros (Advantages):
You can access 13 perfectly designed templates along with hundreds of others from the marketplace of HubSpot
It is mobile optimized
You can easily personalize the pages
You can now integrate easily with the other powerful tools of HubSpot
HubSpot Cons (Disadvantages):
Higher plans can be expensive
Does not have AMP mobile pages
Why choose HubSpot as your landing page builder
There are endless reasons that make this builder one of the vital choices. Choosing this tool will offer you unmatched support.
You can easily create anything within minutes
You can move contents pretty easily
It consists of plugins, page design, and form creation
Which tool should you consider as your landing page builder?
From the many amazing tools, you can choose GrooveFunnels as the best landing page creation tool. Compared to many, this is the all-rounder platform that enables rapid development of landing pages which can encourage conversions.
This tool is created to assist you in saving both your time and money. This can optimize the income and encourage more customers. Not only is this a great landing page builder, but also it helps to create sales funnels that again become a lot helpful in the sales structure.
GrooveFunnels is created for entrepreneurs and marketers to create landing pages and includes other marketing techniques to construct something profitable.
Tips to create attention-grabbing landing page
By now, you have got a complete idea about the landing page builder and the best tools that you can use. However, if you are willing to create a successful landing page, make sur4e you are following these tips.
Make sure you are creating a clean and organized design for the landing page
Do not make it too much but keep a minimalist design with fewer distractions
Make use of a header section to showcase and highlight the offer
Make adequate use of trust signals as it creates a sense of trustworthy
Create a mobile-friendly page and design
Keep as short forms as you can
Create pages depending on your audience
Ensure that the landing page match the PPC ads
Landing Page Builder Final Verdict:
Every tool listed above is one of the best tools for landing page creation in the market. I have created the list upon personally using and doing comprehensive research on them. No denial that a landing page is perhaps one of the most rewarding ways. This guide will probably become helpful in making the right choice.
Whether you are running a small business or into a big organization, these tools can help you create a landing page the way you want. From entrepreneurs to marketers, these tools can be a lot of helpful. So make sure you are making the right choice of landing page creation tools per the needs.
— Unadvertised FREE Bonus —
Get GrooveSell + GroovePages Free
Limited Time Offer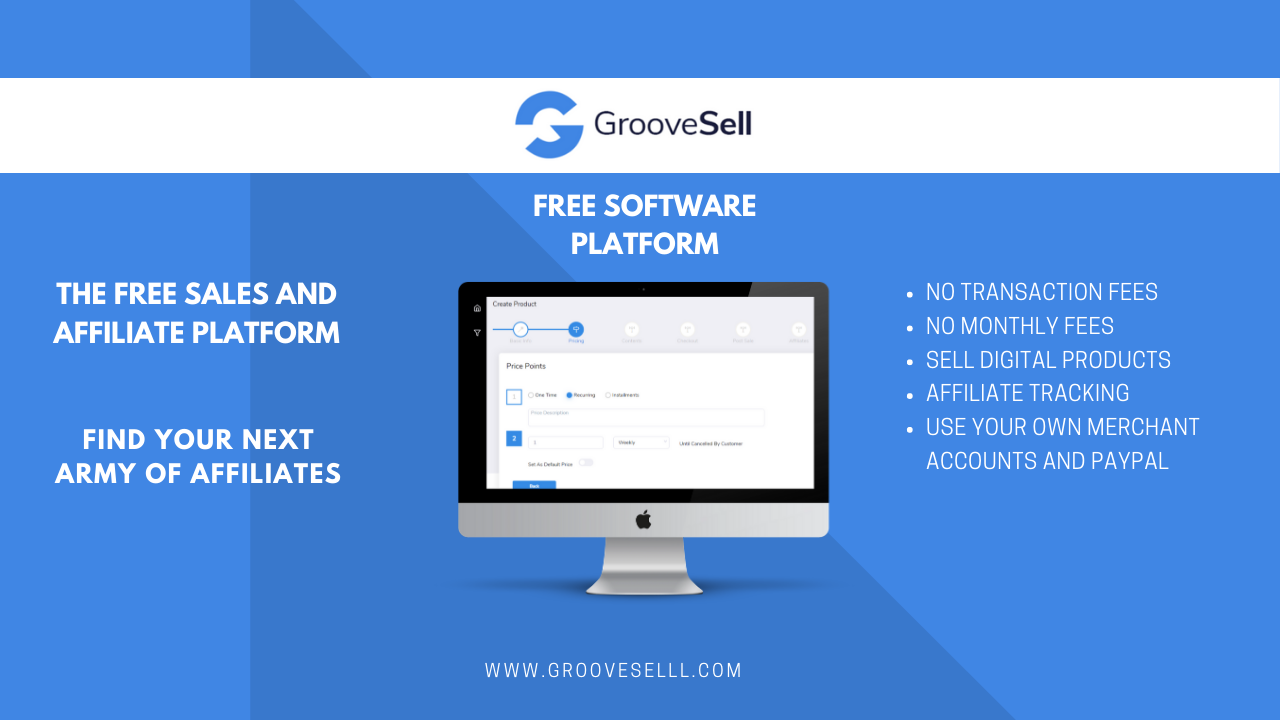 Click Here to Get Free Access — No Credit Card Need